Questions about Carpets, Floor Care and Cleaning?
Ask Dan. He's Got Your Answers...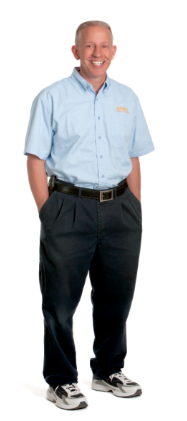 Can I get the same professional carpet cleaning results if I buy my own or rent a carpet cleaning machine?
Rental Carpet Cleaning Equipment Carpet cleaning machines can be rented, but unfortunately, these do-it-yourself models don't have the technology and power needed to really do the job right. In order to kill bacteria and other germs, plenty of very hot water is needed. And then, that dirty water needs to be thoroughly extracted from the carpet so it can dry properly. Otherwise, you'll simply end up with a "mud pack" beneath your carpet and carpet padding.  Improper water extraction can also contribute to mold growth, which can actually be a cause of serious health problems. Why I use the Truck Mounted Hot Water Extraction Process and Eco-friendly Solutions I started out in the carpet cleaning business with a chemical type of carpet cleaning.  I found through experience that this method was inferior.  No matter how hard I tried, I just couldn't get the top quality clean carpet results that I wanted for my customers and clients. Then I investigated all the other carpet cleaning methods available, and found that the truck mount hot water extraction method is the most effective solution when it comes to deep cleaning flooring and carpet. I also discovered the best of eco-friendly cleaning solutions, which I use along with the truck mount hot water extraction method. I also learned details like how much pressure to use and the level of suction appropriate for each type of carpet. This learning process was a very expensive lesson, but one I learned well.  Leaving the franchise, I invested in the equipment needed to get top quality results for my customers.  For over 20 years now, I've been providing excellent quality carpet cleaning services to residential and commercial clients in Kennewick, Pasco and Richland areas of SE Washington State.  I get you the most thorough carpet cleaning ever. Rented carpet cleaning machines are significantly inferior to the professional carpet cleaning I provide. And not all carpet cleaning companies use the truck mounted hot water extraction cleaning processes.  If you care about having clean carpets, it's worth making sure to use the correct professional processes.  I get your dirty carpets clean so you and your guests can enjoy a fresh, clean, space. Give me a call at 509-737-1393 and schedule your carpet cleaning appointment. "DAN DOES A AMAZING JOB AT GETTING YOUR CARPET CLEAN AND SMELLING FRESH." – Cindy H, July 20, 2014  
Dan, not every carpet or stain is the same. How do you get the best cleaning results possible?
You're exactly right.  Not every carpet is the same.   For every carpet cleaning job I take on, I make sure to identify and consider: 1. The type of carpet and padding – fiber, texture and depth, and… 2. The specific cleaning challenges – type of soil or stain, and then I apply… 3. My P.A.T.C.H. protocol so you get a soft, clean pliable carpet when I'm all done. What's P.A.T.C.H.? P = Right PH A = Right Agitation using the Right Tools T = Right dwell TIME for Solution on your carpet C = Right Chemical Cleaning Agents for a thorough cleaning H = Right HEAT temperature for the high powered truck mounted soft water rinse… You can watch My P.A.T.C.H. video below or on youtube Call me directly at 509-737-1393 to schedule your carpet cleaning appointment. Serving Kennewick, Pasco, Richland WA and outlying areas.
How often should I have my carpets professionally cleaned... and why?
Deep Carpet Cleaning and Sanitizing may be needed every 3-6 months.
One disturbing fact about floors, especially carpeting… it can harbor nearly 300,000 bacteria per square inch! Bacteria growth on carpet fiber occurs in your carpet simply from the process of every day living. Soil is tracked in on shoes from wherever you've been. Dust and dust mites land on the carpet from the air.  Pets shed hair and spread dirt where ever they go. Toddlers drop bits of food, beverages are spilled, and more.
This inevitable collection of dirt, dust, microbes and stains need to be removed regularly to keep your carpet clean and fresh.
The only way to ensure that your carpet is not only clean but sanitized is to
have it professionally cleaned by an expert technician who doesn't cut corners, who uses the right type of equipment and the right kind of eco friendly solutions specific for your carpet, that actually deep clean the fibers with enough power and force to remove the bacteria, stains, and all the ground in dirt.
The problem with anything less than a thorough professional cleaning, is that while your carpet may
look
clean on the surface, without proper deep cleaning with the hot water extraction process and professional sanitization, it may not really
be
clean. Here are some things you can do to decrease the bacteria that build up in your carpet between professional cleanings.
Vacuum frequently. If you have pets or children, you may want to even do this daily in high traffic areas.
Remove your shoes at the door. Use a different pair of shoes or slippers inside that are ONLY worn indoors, to reduce the amount of dirt and germs that are tracked inside. 
Place a mat outside your door – just walking on it will remove dirt and microbes from your shoes before you enter.
Place a machine washable throw rug indoors where people do the most walking – and wash it regularly.
It takes powerful, high temperature hot water extraction cleaning methods to effectively eliminate bacteria, dirt and stains from your carpet. Proper professional cleaning can actually extend the life of the carpet. Following the tips listed above can significantly reduce the build-up of dirt and grime between professional carpet cleaning.
Professionally cleaning your carpets regularly will go a long way in preventing germs and illness
, and give you the
peace of mind
knowing that your household is safe from bacteria, mold, and other allergens that can be found in dirty or poorly cleaned carpet!
Please explain how you get the best cleaning results for tile and grout.
The same principles of P.A.T.C.H. that I apply to carpet cleaning, apply to all surfaces when cleaning, including tile and grout. We use the truck mount hot water extraction system, but use specialty tools designed specifically for hard surface cleaning that attach to the hoses. We first select the correct cleaning solution for your type of hard floor, whether it's travertine, ceramic tile, slate, or marble. Choosing the correct solution is key to making sure there is no sticky residue left on the floor after the cleaning is done. After applying the solution, we agitate it.  In small areas, we brush the tile with a long handled deck brush. And we also agitate the solution on the grout lines with a grout brush.  No, I don't get down on my hands and knees, I use long handled grout brushes.  In large areas, I often select to use a buffer or cylindrical brush to pre-agitate the solution on the floor.  During this process this provides enough dwell time of the solution on the floor, to thoroughly emulsify the soil. After agitation, then we use the truck mount hot water extraction system to rinse the floor with hot soft water. Sealing Tile and Grout  To make your cleaning last the longest, it's best to always seal the floor after cleaning. I choose to use a different word rather than sealer.  The words I like is to protect the floor with a polyflouroimpregnator. Why? There are 3 types of "sealers"…silicones, acrylics, and impregnators. Silicone sealants only protect against water.  It's cheap. Might last for 6 months. Acrylic sealants protect against water and light oils.  It's not as cheap. Polyflor Impregnator sealant protects against water, oils, alkaline dyes, acid dyes, heat, and impact.  Polyflor Impregnator sealant is a 10 – 15 year product. It's not cheap. It's top quality. If this is used after a thorough professional cleaning, then the next cleaning will be easier – it will require less solution and less heat to get the best results. P.S. Out of 10,000 people going into a hardware store looking for grout sealant, only 1 may know the difference between those 3 types of sealants.  So now you know… P.S.S.  PLEASE, NEVER WAX YOUR STONE OR TILE FLOOR.  Wax acts like a dirt magnet, collecting and embedding dirt and grit within it, and then it will peel like a rattlesnake. Wax on a stone or tile floor creates a nasty mess that can be difficult to remove.
My carpet is so dirty and stained, I'm not sure if carpet cleaning will work. Should I just replace the carpet?
Before you decide to replace your dirty or stained carpet, give me a call and ask for a Carpet Consult. 509-737-1393 I'll have a look at your carpet, and tell you the truth about whether I think it's worth trying to clean, or if you may be better off replacing the carpet. If the carpet consult results in a carpet cleaning job for me, there's no charge for the consult – just for the cleaning.  If it turns out that you need to replace the carpet, I'll charge you a fair price for the consult and my expert advice. I've cleaned almost every type of carpet made – and I know what works for the different types of fiber and weaves. I also know what types of carpet work best for specific settings and purposes, and can advise you what to look for if you decide to replace your carpet, or if you are building a new home or facility and are in the process of choosing new carpeting. Selecting the right carpet for your the purpose and setting can make a lot of difference in how well your carpet wears. And scheduling regular professional carpet cleaning can go a long way toward keeping your carpet clean and fresh for the longest possible length of time.
Do you clean wood and concrete flooring?
Yes, I do clean wood and concrete flooring, in addition to cleaning tile and carpet.  There are specific processes needed for getting top quality results for each type of floor cleaning. The same P.A.T.C.H. principles I use for carpet, tile and grout cleaning also apply to wood and concrete floors. I just use different tools attached to the truck mount hoses that are specific to wood and to concrete. Using the truck mount system with the specialty tools and correct solutions, I strip the old seal and dirt away from the floor. Once the floor is thoroughly clean, I use the proper sealant. I clean concrete and wood flooring for both commercial and residential settings.  Regardless of the size of the job, I get you the best cleaning results possible for your project.
Dan Rasmussen = "The Common Sense Carpet Cleaner"
I'm a small town guy, doing my best to support my family and help make the world around me a better place.   Definitely not perfect – but I'm a true blue entrepreneur.  20+ years ago I followed my inner instincts to start my own local service business.  I'm an action taker – hands-on, more comfortable with big machines than behind a desk, so I chose the carpet cleaning industry.
Yes, the three things I've learned to count on in this business are 1) plenty of dirt, 2) an intimate relationship with my equipment, and 3) lots of hard work.  It's a huge industry that offers great opportunity, but there's also some people who think cleaning carpets is an easy scam to make a quick buck from unsuspecting customers. That's not me. I learned the hard way what it takes in this business to provide great value for my customers and truly get dirty carpets clean. I'm here to bring some common sense to all the hype about what it takes to provide real service and do this business well. I enjoy serving my clients and get great results for them.  I get their dirty carpets clean so they can enjoy a clean space and feel great about welcoming family and friends into their homes. It's the same for my commercial clients – only on a bigger scale.
Whatever my other faults may be, when it comes to carpet cleaning, I do it right. 
Every new carpet cleaning business goes through the same learning stages,  and every one of us faces some common problems – mostly centering around getting new customers, getting repeat business, providing excellent cleaning services, equipment maintenance, and keeping costs under control.
Dan's Carpet Cleaning
is a small company located in Kennewick, Washington State.  We just have a couple of trucks, and I often handle many of the jobs myself, but when I'm double booked or get large commercial jobs, I've got teams I call on and get the jobs done without compromising on quality.  Give me a call at 509-737-1393 and schedule your cleaning appointment now.
"The Most Thorough Cleaning Ever"
"There's three things you can count on in this business – plenty of dirt, an intimate relationship with your equipment, and lots of hard work." – Dan Rasmussen